Keynote Speaker: Mark Pegrum, University of Western Australia.
Plenary Speaker (virtual presentation): Tracey Tokuhama-Espinosa, FLACSO, Quito, Ecuador.
Plenary Speaker (virtual presentation): Dr Paul Howard-Jones, Graduate School of Education, Bristol University.
Plenary Speaker (virtual presentation): Julia Volkman, President/Founder of Maitri Learning & Teaching Fellow for Neuroscience of Learning: An Introduction to Mind, Brain & Education at Harvard University (Extension School).
Friday, June 3rd: Pre-conference workshops: 18:00-21:00, Room 501 & 502. (Bring your own device.)
Registration
You can read more about registration at the conference site.

JALT 2016, Nagoya
The CALL SIG FORUM is schedule each year at the JALT National conference. Check back for details.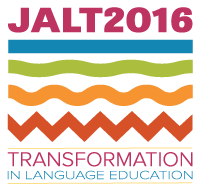 JALT 2015, Shizuoka
The CALL SIG FORUM was held on Saturday, November 21st at 5:50-7:20 PM in Room 904. Details about the forum can be found in the downloadable PDF.
JALTCALL 2015
The JALTCALL 2015  conference was held June 5-7 at Kyushu Sangyo University in Fukuoka, Japan. It was a great success due to the efforts of conference co-chairs Douglas Jarrell and Paul Daniels. Check the conference site for links to the Keynote and Plenary addresses.